Janet Garufis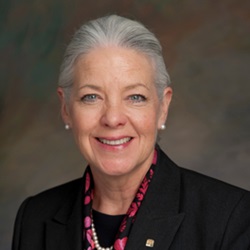 Name

Janet Garufis

Affiliation

Montecito Bank and Trust, Santa Barbara, California

Title

President and CEO
Janet Garufis began her distinguished banking career as a teller almost 50 years ago with Security Pacific Bank, now Bank of America. She rose through the ranks of retail banking and after completing the Security Pacific Management Training Program, successfully led retail banking, commercial banking and private banking organizations.

She was born in Los Angeles and graduated from Marymount High School. She attended UCLA and holds B.A. and M.A. degrees from California State University Northridge. She moved to Santa Barbara in 2002 to attend the Gevirtz Graduate School of Education, UC Santa Barbara to earn a Ph.D. Her educational pursuits were put on hold when she joined Montecito Bank & Trust in 2004. In 2006 she became CEO & President and in 2017 accepted the role of Chairman of the Board and continues her role as CEO. In 2022 Fielding University awarded Janet the Honorary Degree of Doctor of Philosophy in Humane Letters for her leadership and contributions to Fielding and the community.

Janet actively contributes her time and talent to local non-profits as well as industry associations. She currently chairs the Santa Barbara Symphony Board of Directors, and serves on the Sansum Board of Trustees (past Chair), the Scholarship Foundation of Santa Barbara Board of Directors (past Chair) and the Board of the Santa Barbara South Coast Chamber of Commerce.

She has previously served in different capacities with Women's Economic Ventures, CALM, United Way, Music Academy of the West, the Santa Barbara Library, California State University Channel Islands, Habitat for Humanity, Fielding University, American Heart Association, PublicSquare and many others.

She also serves on industry boards including the Pacific Business Management Institute of Pacific Coast Banking School and the Board of the American Bankers Association Foundation Board. She has previously served on the Community Depository Institutions Advisory Council of the Federal Reserve Bank's 12th District (CDIAC) and served as the Chair of the council in 2017 and 2018 and as the National CDIAC Chair in 2018.

In her spare time, Janet enjoys running, gardening and cooking. She loves spending time with her two sons and their families…especially her grandchildren!

Awards and accolades include: Santa Barbara Woman of the Year (2017), American Banker – 25 Most Powerful Women to Watch (2015, 2017), Pacific Coast Business Times - Top 50 Women in Biz (2007 – 2021), California State University Northridge Distinguished Alumna of the Year 2018, Pacific Coast Business Times Inaugural Distinguished Achievement Award (2018), Association of Fundraising Professionals – Volunteer of the Year (2015), United Way Abercrombie Community Excellence Award (2015), American Heart Association - Lifestyle Change Award (2013), Girls Inc. (Carpinteria) - Women of Inspiration Award (2012), Santa Barbara Chamber Businesswoman of the Year (2010), and Pierre Claeyssens Award for Distinguished Service (2010).