Tom Hough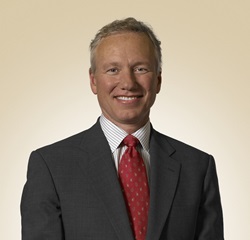 Name

Thomas W Hough

Affiliation

Carrollton Bank, Carrollton, Ill.

Title

CEO
Tom Hough is Chairman and Chief Executive Officer of Carrollton Bank, a fifth­ generation company founded in 1877 in Carrollton, Illinois by his great-great grandfather. Tom is a native of Carrollton and graduated from the University of Illinois College of Business. He joined the bank in 1973 when it had $7 million in assets at its original location in Carrollton.

Today, Carrollton Bank has ten locations, including eight in the St. Louis MSA and two in central Illinois, and assets of$1.6 billion. Virtually all of the bank's
growth has been organic in nature. Carrollton remains a privately-held, owner­ operated company, with the majority of its shareholders being full-time employees, who serve customers and build long-term relationships on a daily basis.

Tom is a board member of the Regional Business Council, the Foundation for Barnes-Jewish Hospital, the Jefferson National Parks Association, the University of Illinois Dean's Business Council, and the Lewis & Clark Community College Foundation. He's a past chairman of the Illinois Bankers Association.

Tom and his wife Suzanne and family have lived in St. Louis for several years. Suzanne is Director of Community Development at Carrollton Bank. Their son Tom is a vice president at Carrollton Bank, and their other son John is a freelance sports journalist.