Rhoshunda Kelly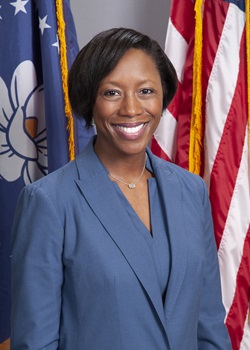 Name

Rhoshunda Kelly

Affiliation

Mississippi Department of Banking and Consumer Finance

Title

Commissioner
Rhoshunda Kelly is the Commissioner of the Mississippi Department of Banking and Consumer Finance. She has over 20 years of experience as a regulator. She began her career as a field examiner before serving as the Director of Bank Supervision. Kelly was appointed Deputy Commissioner in 2014. As Deputy Commissioner, she was responsible for the banking, mortgage, consumer finance, administration, legal and information technology divisions. In this capacity, she also ensured effective coordination between the state and federal regulators and fostered engagement with regulated industries. Governor Tate Reeves appointed Kelly Commissioner March 22, 2021.
As Commissioner, Kelly ensures effective agency operations and adequate supervision of state-chartered assets and nonbank financial service providers. The Department supervises over $140 billion in state-chartered banking assets and licenses over 10,000 consumer finance and mortgage entities.
Kelly received her undergraduate degree in business from Mississippi State University. She is a graduate of the School of Banking at Louisiana State University and an honor graduate of the American Bankers Association Graduate Trust School. Kelly is a Certified Public Manager and a Certified Examinations Manager.
She was named a 2019 Leader in Finance by Mississippi Business Journal. Kelly is active in the Conference of State Bank Supervisors (CSBS), serving on the Board of Directors. She is also a member of the Mississippi State University Finance and Economics Advisory Board.