CSBS Announces Five Finalist Teams in the 2017 Bank Case Study Competition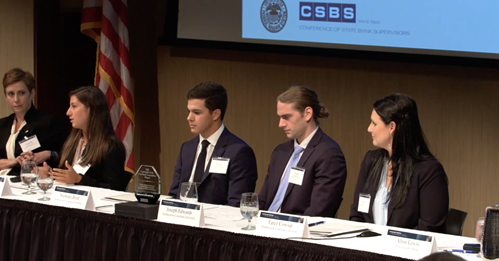 On May 15, 2017, the Conference of State Bank Supervisors (CSBS) announced five student teams as finalists in its nationwide Community Bank Case Study Competition. The college teams are: Bloomsburg University of Pennsylvania, Iowa State University, Kutztown University (PA), Texas Tech University, and University of Akron (OH).
The student teams will now advance to the final round of competition judging where the students will compete for a chance to win a $1,000 CSBS scholarship per student, an opportunity to present their case at the CSBS-Federal Reserve Community Banking in the 21st Century research and policy conference, and an opportunity to have their work published. CSBS will announce first, second and third place winning teams Thursday, May 25 live via Twitter during the annual state and federal banking regulator forum in New Orleans.
Competition finalists were chosen among 33 undergraduate student teams from universities and colleges around the U.S. The Community Bank Case Study Competition encourages students to explore community banking by partnering student teams with local banks to conduct original case studies. The 2017 competition focused on management and board succession planning at local community banks.
More information about the 2017 CSBS Community Bank Case Study Competition is available at http://www.csbs.org/bankcasestudy.