Twelve Papers Selected for the 2019 Conference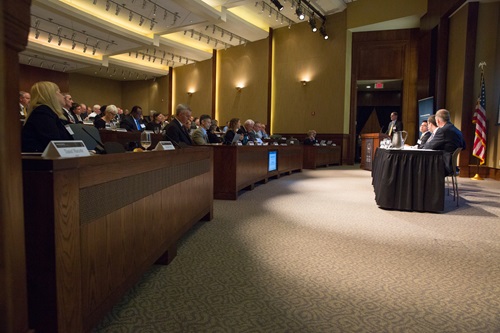 The Federal Reserve System, the Conference of State Bank Supervisors, and the Federal Deposit Insurance Corp. are pleased to announce that 12 papers have been selected for presentation at the seventh annual community bank research and policy conference, to be held October 1-2, 2019, at the Federal Reserve Bank of St. Louis.
The purpose of the conference is to bring together academics, community bankers, regulators and policymakers to focus on the latest academic research on community banking and the important policy issues that affect community banks. This year, the papers, along with their respective session categories, are:
Small Business Lending
Who's Holding the Bag? Regulatory Compliance Pressure and Bank Risk-Shifting
Lamont Black, DePaul University; John Hackney, University of South Carolina
To Ask or Not to Ask? Bank Capital Requirements and Loan Collateralization
Hans Degryse, KU Leuven, Flanders, Belgium; Artashes Karapetyanz, Norwegian Business School, Oslo, Norway; Sudipto Karmakar, Bank of Portugal
Is There a Benefit from Reduced Regulation on Small Banks?
Abhishek Srivastav, University of Edinburgh, Edinburgh, Scotland; Francesco Vallascas, University of Leeds, Leeds, England

Local Shocks and Spillover Effects
Capital Mobility and Regulation Frictions: Evidence from U.S. Lottery Winners
Carlos Parra, Pontificia Universidad Catolica de Chile, Santiago, Chile
Natural Disasters, Loan Loss Accounting and Subsequent Lending: Does Pro-Cyclical Loss Accounting Intensify Capital Constraints?
Sandra Chamberlain, Rajesh Vijayaraghavan and Yuxiang Zheng, University of British Columbia
Bank Branching Networks and Geographic Contagion of Oil Price Shocks
Teng Wang, Federal Reserve Board of Governors

Responses to Changes in Regulation or Supervision
Risk-shifting, Regulation and Government Assistance
Padma Sharma, University of California, Irvine
Deregulation, Market Structure and the Demise of Old School Banking
Emilio Bisetti, Hong Kong University of Science and Technology; Stephen Karolyi, Carnegie Mellon University; Stefan Lewellen, Penn State University
Reliance on Third Party Verification in Bank Supervision
Yadav Gopalan, Indiana University; Andrew Imdieke, University of Notre Dame; Joseph Schroeder, Indiana University; Sarah Stuber, Texas A&M University

Technology and Banking
Small Bank Lending amidst the Ascent of Fintech and Shadow Banking: A Sideshow?
Taylor Begley, Washington University at St. Louis; Kandarp Srinivasan, Northeastern University, Boston, Mass.
What is Fueling the Fintech Lending Revolution? Local Banking Market Structure and Fintech Market Penetration
Tetyana Balyuk, Emory University; Allen Berger and John Hackney, University of South Carolina
Bank Technology: Productivity and Employment
Zifeng Feng, Frostburg State University, Frostburg, Md.; Zhonghua Wu, Florida International University, Miami, Fl.
All presentations will be livestreamed on the conference website.