2019 Spotlight: Bank of Bird-in-Hand, Pennsylvania
Lori Maley, president and CEO of Bank of Bird-in-Hand, Bird-in-Hand, Pa., and Bill O'Brien, executive vice president and chief lending officer, discuss how their team has tailored the bank's services to be of optimal assistance to the members of the local Amish community, as well as to their non-Amish neighbors and businesses. Kevin Eshleman, lead pastor of Ephrata Church, Ephrata, Pa., explains how the Bank of Bird-in-Hand helped his fast-growing congregation build a new place to worship, which was also designed as a gathering spot for the entire community.
First de novo after the financial crisis
When Bank of Bird-in-Hand opened in December 2013, it was the first newly chartered bank, or de novo, to launch in the US since late 2010, when the financial crisis precipitated thousands of bank closures and mergers and led to the passage of the Dodd-Frank Wall Street Reform and Consumer Protection Act.

It has experienced strong growth since its opening, focusing on serving farmers, small businesses, professionals and consumers in eastern Lancaster County. Its market and its organizers include many Amish. After the backers raised $17 million to start the bank, it proceeded to open with assets of $35 million. In five years, total assets had reached $358.2 million (as of Dec. 31, 2018.)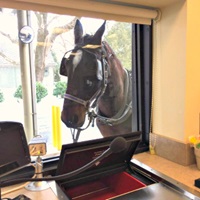 Many features of the bank building facilitate ease of use for Amish customers, who do not drive automobiles.



The bank's drive-up teller windows and parking spaces accommodate both horse and buggy drivers, as well as for customers who prefer to walk up to the window or into the bank.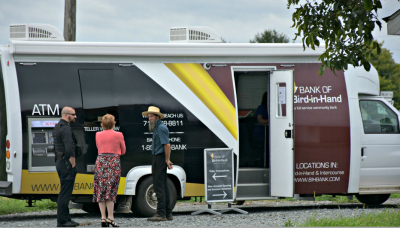 In 2017, it received regulatory approval for a mobile banking unit. A 29-foot foot long full-service mobile bank on wheels, known locally in Pennsylvania Dutch as the "Gelt Bus," travels throughout Lancaster and Chester Counties to reach its more geographically distant customers.