Study Quantifies Compliance Costs for Community Banks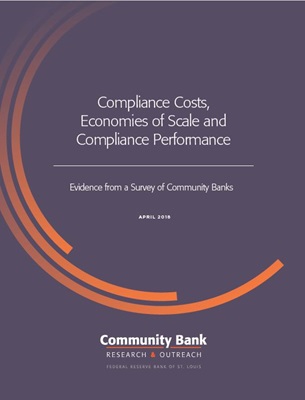 A study released using data compiled in surveys by the Conference of State Bank Supervisors (CSBS) shows that the burden of regulatory compliance for community banks declined in 2016 after increasing in the previous year.
Compliance expenses as a share of noninterest expense rose from 5.5 percent in 2014 to 8.1 percent in 2015 before dropping to 7.7 percent in 2016. The study suggested that this pattern of expenses may have been related to implementation of mortgage regulations under the Dodd-Frank Wall Street Reform and Consumer Protection Act. In 2016, compliance with mortgage-related regulations accounted for about one-third of all regulatory costs.
The study also identified significant economies of scale in satisfying regulatory obligations. Banks with assets of less than $100 million, for instance, reported compliance costs that averaged almost 10 percent of noninterest expense, which was double the same percentage for banks with more than $1 billion in assets. These economies of scale were found to persist among banks with the same regulatory ratings for management quality and for compliance with rules governing the provision of consumer services. Lesser relative compliance expenses for larger banks, in other words, were not necessarily associated with a willingness to tolerate lower performance outcomes.
The study was based on surveys conducted by the CSBS in 2015, 2016 and 2017. It identified costs incurred by 1,091 community banks, within five specific operational areas, in responding to the entirety of their regulatory requirements. Costs were found to be relatively high for data processing and accounting, but were much lower for legal and consulting services.
The study, "Compliance Costs, Economies of Scale and Compliance Performance," was prepared by researchers at the Federal Reserve Bank of St. Louis. Click here to read it.