2020 Call for Papers Deadline Extended Through June 12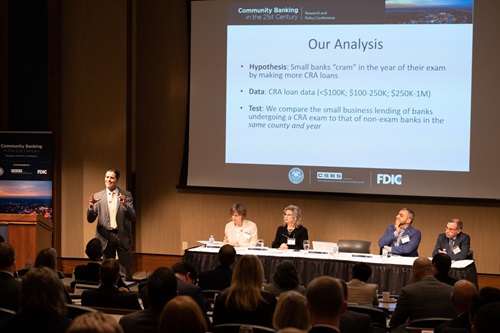 Note: We are closely monitoring the situation regarding COVID-19. The health and safety of our attendees and the academic standards of the conference are our highest priorities. As we plan the conference, we will follow guidance from public health officials as it relates to the safety of attending large events and travelling. The conference sponsors are also developing a plan to move the conference to an online format if necessary. The conference organizers remain committed to publicizing the accepted papers and issuing an award to the paper that is deemed to make the most significant contribution to banking research.
The Federal Reserve System, the Conference of State Bank Supervisors, and the Federal Deposit Insurance Corporation (FDIC) invite the submission of papers for their eighth annual community bank research and policy conference, which is scheduled to be held September 30 – October 1, 2020, at the Federal Reserve Bank of St. Louis. The deadline for submission has been extended until June 12, 2020. The purpose of the conference is to bring together academics, community bankers, regulators and policymakers to focus on the latest academic research on community banking and the important policy issues that affect community banks.
The conference welcomes the submission of papers that explore all aspects of community banking, especially empirical- and policy- oriented papers. An award will be issued for the accepted paper that is identified as making the most significant contribution to banking research. Topics of interest for the conference include, but are not limited to:
The role of community banks in the U.S. financial system
provision of financial services to households, small businesses and small farms
impact of community banks on local/state economic activity
Advantages and disadvantages of the community bank business model
benefits of local knowledge and strong relationships
costs of operating at a small scale
funding and liquidity
The effects of government policy on community banks
quantifying regulatory and compliance costs
intended and unintended effects of regulatory requirements
antitrust policy and community banks
Challenges and opportunities faced by community banks
competition from large banks, credit unions, and nonbanks, including financial technology firms
keeping up with rapid technological advances
succession planning and attracting employees with needed expertise
operational risks
collaborations/partnerships with financial technology firms
responding to the effects of climate change
The deadline to submit a detailed abstract or completed paper is by end of day on June 5, 2020. Submissions should be e-mailed to: conference@communitybanking.org.
Authors of accepted papers will be notified by July 24, 2020.