CSBS Releases 2023 Annual Survey of Community Banks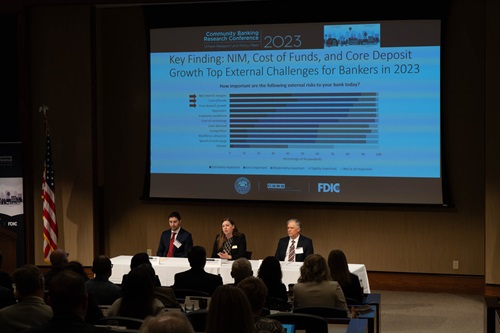 According to the Conference of State Bank Supervisors' (CSBS) 2023 Annual Survey of Community Banks, community bankers across the nation ranked net interest margins, economic conditions and loan demand as their highest external risks. Inflation was described as a persistent, but manageable challenge. Meanwhile, cybersecurity remains the top internal challenge, although it dropped by 16% from last year as a very important risk, perhaps indicating that banks are more prepared. Despite these challenges, community bankers reported they expect the strength of relationship-based lending to expand more than transactional lending.
The complete survey can be found on the CSBS website at: https://www.csbs.org/survey2023
Other key findings and insights from the 2023 survey include:
More than 86% of respondents named cost of funds as either extremely or very important, a significant increase from the 48% who said so last year.

New and emerging technologies are important tools for banks to meet customer demand. Nearly all banks surveyed identified the adoption of new or emerging technologies as important.

Costs and implementation remain the largest impediments to adoption of new and emerging technologies, followed by limitations of core service providers.

Despite any limitations, close to two-thirds of respondents reported relying on core service providers for digital banking products and services and were not seeking any partnerships with other digital providers, such as fintech firms.