FDIC Chairman Jelena McWilliams Will Address 2021 Conference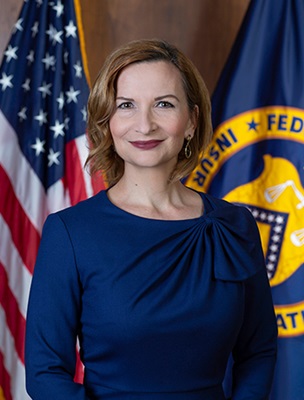 Jelena McWilliams, chairman of the Federal Deposit Insurance Corp. (FDIC), will address the 2021 Community Banking in the 21st Century research and policy conference, which will be held Sept. 28 - 29, 2021. Co-sponsored by the Federal Reserve, the Conference of State Bank Supervisors (CSBS) and the FDIC, the 2021 conference will be the ninth annual gathering of community bankers, academics, policymakers and bank regulators to discuss the latest research on community banking.
She is the 21st Chairman of the Federal Deposit Insurance Corporation. Prior to her chairmanship, McWilliams served as Executive Vice President, Chief Legal Officer and Corporate Secretary at Fifth Third Bank in Cincinnati. Previously, she was Chief Counsel and Deputy Staff Director of the Senate Committee on Banking, Housing and Urban Affairs and as Assistant Chief Counsel with the Small Business and Entrepreneurship Committee.
From 2007 to 2010, she was an attorney with the Federal Reserve Board of Governors, where she drafted consumer protection regulations, reviewed and analyzed comment letters on regulatory proposals and responded to consumer complaints. Before entering public service, she practiced corporate and securities law at Morrison & Foerster LLP in Palo Alto, California, and Hogan & Hartson LLP in Washington, D.C. McWilliams graduated with highest honors from the University of California at Berkeley, earning a bachelor's degree in political science and a law degree.