Laurie Stewart Will Give Community Banker Keynote at 2020 Conference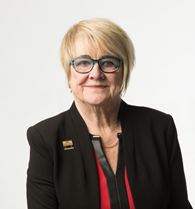 Laura Lee (Laurie) Stewart, president and CEO of Seattle-based Sound Community Bank is the keynote community banker speaker for the 2020 Community Banking in the 21st Century research and policy conference. The conference is scheduled to be held Sept-30-Oct. 1, 2020 at the Federal Reserve Bank of St. Louis.
(COVID-19 Note: The conference planning committee is closely monitoring the situation regarding COVID-19. The health and safety of conference attendees, presenters and speakers are of the utmost priority and the committee will follow guidance from public health officials relating to the safety of attending large events and travelling. A plan is being developed to move the conference to an online format if necessary.)

Stewart celebrates more than 30 years at the helm of Sound Community Bank. In that time, she led the conversion of the organization from a $38 million credit union to a commercial bank that grew to be more than $718 million in assets. Stewart maintains a long history in community banking and participation in industry affairs. Stewart currently serves as the chair of the American Bankers Association, representing the nation's $18.6 trillion banking industry and the employment of more than two million workers. She is also holds a position on the board of directors for the Federal Reserve Bank of San Francisco's Seattle Branch. Previously, Stewart served as chair of the board of directors of the Washington Bankers Association (WBA), where she helped create the WBA's Executive Development Program. In addition, Stewart was one of 14 bankers selected to serve on the inaugural FDIC Advisory Board in 2009, and in 2012, she was named to the Community Bank Advisory Council of the Consumer Financial Protection Bureau. In 2019, she was named Community Banker of the Year by American Banker and received an Executive Excellence award from Seattle Business Magazine. American Banker also named her as one of its Most Powerful Women in Banking in 2011, 2015, 2017, 2018, and 2019. Stewart serves as chair of the board of directors for the National Arthritis Foundation and she is a member of the board of directors of various local community and charitable organizations such as the Woodland Park Zoo.